The Wildly Popular "Winnie-the-Pooh: Blood and Honey" Pulled From Hong Kong Cinemas
Before the film's debut, more than 30 theaters pulled the microbudget slasher, prompting rumors of political pressure and censorship from China, where an odd and unofficial crackdown on Winnie-the-Pooh has been in place for years.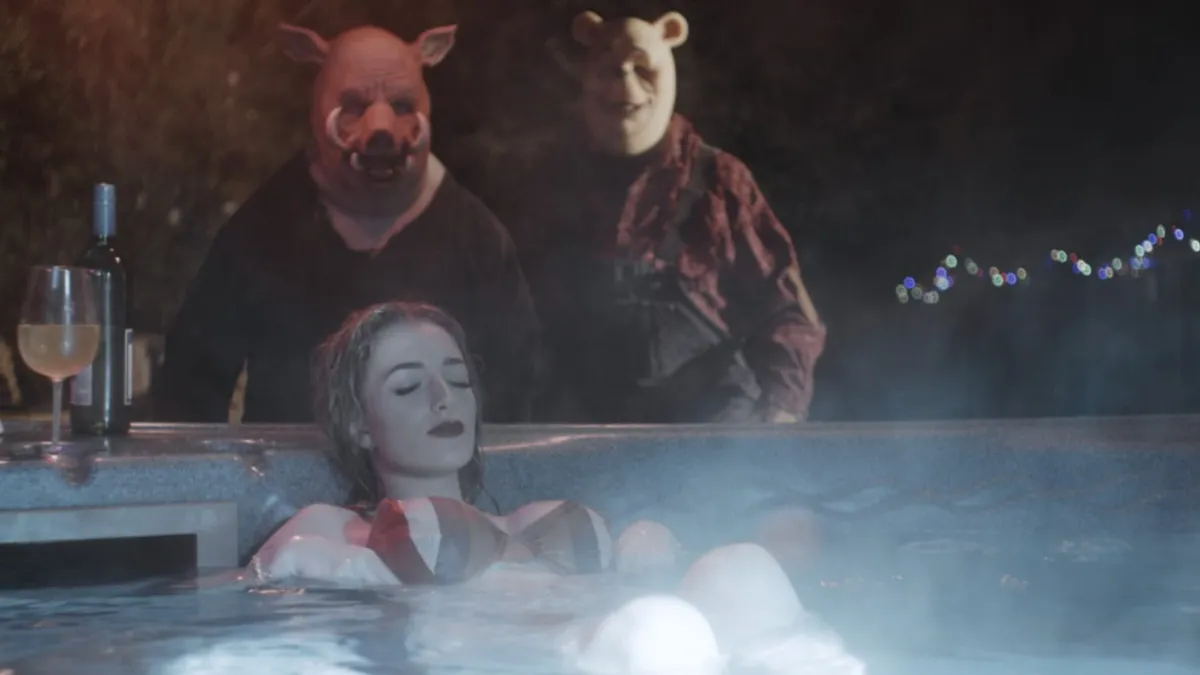 The movie Winnie-the-Pooh: Blood and Honey was quietly pulled from theaters this week, disappointing Hong Kong moviegoers who were hoping to have their childhoods potentially destroyed by the viral slasher sensation. This action has fueled rumors about censorship due to an apparent resemblance between the children's character and Chinese leader Xi Jinping.
The microbudget British movie, in which Winnie and his companion Piglet go on a cannibalistic rampage through Hundred Acre Wood, was reportedly scheduled to open at more than 30 theaters in the city this Thursday but has now been pulled from the schedule, according to The Hollywood Reporter. The movie's release in Macau has apparently also been canceled.
Moviematic, which had planned a pre-release showing of the movie in Hong Kong for Tuesday, announced on social media that its event had been postponed due to "technical reasons" that were not made clear. Since then, the movie has been taken down from the websites of several theater chains.
Yet, Winnie-the-Pooh: Blood and Honey has screened well overseas without any such technical issues, earning more than $4 million thus far with debuts in the U.S., U.K., Mexico, Russia, and Australia to mention a few locations. According to THR, a trimmed version of the movie, which takes out a lot of the gore, has already been approved by Hong Kong's local censors, and a sneak preview of it was held there last week.
An unequivocal, albeit unstated, Winnie-the-Pooh ban in China now seems to have moved to Hong Kong, leading to speculation that the movie's nearly silent removal from theaters was caused by "political pressure," according to one source.
Authorities in China rejected Disney's live-action/CGI film Christopher Robin, which starred a much more savory version of Winnie. Although no explanation was given at the time, it was assumed that the unofficial crackdown on the country's use of children's cartoon visuals was the result of the bear's status as a symbol of opposition to the ruling Community Party after bloggers compared him to China President Xi Jinping.
Since enacting the National Security Law in Hong Kong in 2020, China has been harshly clamping down on dissent and freedom of expression there. As a result, anything that is blatantly sensitive to the mainland is no longer likely to be screened in the territory. Despite Derek Tsang's Better Days being nominated for best foreign feature, the Oscars were not broadcast in Hong Kong for the first time in 50 years in 2021. The action was in line with Beijing media watchdogs' directives to mainland Chinese media outlets not to broadcast live coverage of the ceremony and downplay reporting (believed to be over the nomination of the short documentary Do Not Split about the 2019 pro-democracy protests in Hong Kong).
A documentary about political protests may not be even close to being as serious as the bizarre, low-budget slasher Winnie-the-Pooh: Blood and Honey, in which a gigantic bear runs over and sledgehammers his victims to death. Yet because of China's equally absurd-sounding Pooh prohibition, it very likely may have become the first movie to be censored in Hong Kong.