'Blackout', 'Where the Devil Roams', and 'The Sacrifice Game' Are Among the First Wave of Films at the Fantasia Film Festival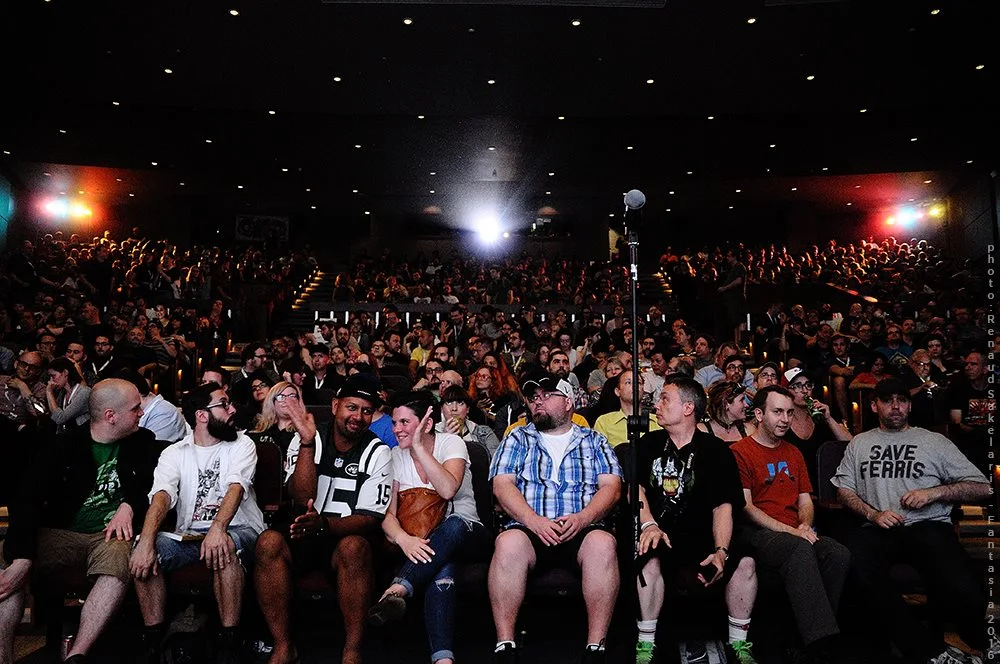 From July 20 through August 9, 2023, Concordia Hall Cinema will host screenings, workshops, and launch events for the 27th Fantasia International Film Festival. Additional screenings will take place at the Cinémathèque québécoise and Cinéma du Musée.
The whole lineup for the festival will be revealed in early July. Fantasia released a first wave of titles and events in the meantime.
This is the news release:
The 27th Edition has a bright spotlight on South Korean cinema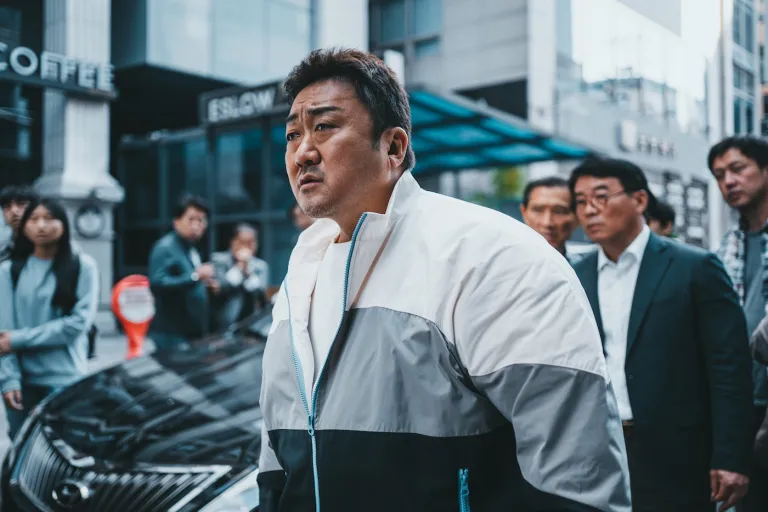 Since Kang Je-gyu's Gingko Bed was chosen for Fantasia's 1998 edition, the festival has emerged as one of the foremost showcases for South Korean cinema. A number of important Korean filmmakers have been introduced to Fantasia's audience over the years, including Bong Joon-ho (Barking Dogs Never Bite), Park Chan-wook , Kim Ji-woon, Hwang Dong-hyuk, and Yeon Sang-ho, among many others. These filmmakers are now pillars of the global film industry, illuminating both traditional theaters and streaming services.
In honor of the 60th anniversary of diplomatic ties between Canada and the Republic of Korea, the Fantasia International Film Festival is pleased to present this distinctive national film in association with the Korean Cultural Center Canada and the Cinémathèque québécoise. The festival will highlight the vibrancy of recent productions and the diversity of South Korean artists, who work in a wide range of genres from action to arthouse, breath-taking thrillers to outrageous musical comedies. The festival will also include a retrospective of some important films that contributed to the resurgence of Korean cinema in the 2000s and its ongoing success.
The satirical and current one-man horror anthology New Normal by Jung Bum-shik will make its North American debut at Fantasia. The festival will also feature the Canadian premieres of An Tae-jin's historical acupuncturist thriller The Night Owl, Lee Sang-yong's boisterous and violent The Roundup: No Way Out, which once again stars Don Lee, Jeong Jae-un's coming-of-age Take Care of my Cat (2001), and Im Sang-soo's masterwork The President's Last Bang (2005). Soon, more titles will be revealed.
The fabled nine-tailed fox, a fascinating creature in East Asian folktales, was interpreted by Montreal visual artist Donald Caron for this year's poster art in honor of the spotlight.
Lovely, Dark, and Deep Runs Fear
The highly awaited directorial debut of The Wind and Midnight Mass screenwriter by Teresa Sutherland. This visually spectacular, horrifying nightmare is laced with foreboding music and a fascinating lead performance from Georgina Campbell of Barbarian. As a park ranger in a remote forest outpost where there have been several unexplained disappearances, Campbell is troubled by visions that mix the present with the past and something far more horrible. This gripping movie exudes a surreal, fever-dream vibe. Nick Blood, Wai Ching Ho, and Edgar Morais are also featured. First time ever.
A Resurrection of Vampire Lore That Is Suppressed and Spectacular: Emperor V
A disgruntled student (Pavel Tabakov) who accepts an invitation to join "the elite" is forcibly turned into a vampire and becomes a member of the supernatural ruling class that rules over humanity in secret. The acclaimed Russian-American filmmaker Victor Ginzburg (GENERATION P) exhibits stunning visual creativity, perfectly complimenting a narrative that ingeniously and fantastically reimagines practically every facet of vampire lore. The MATRIX of vampire movies is this. Years in the making, EMPIRE V is a megabudget anti-Oligarch satire with next-level blockbuster storytelling, energized by magnificent visuals from the legendary Aleksei Rodionov (COME AND SEE). Co-starring rapper Oxxxymiron and Miron Fedorov, whose anti-war concerts prompted the Russian justice ministry to label him a "foreign agent." The Russian Ministry of Culture has outright outlawed EMPIRE V, assuring that no Russians will ever be able to watch it. First time ever.
The Tokyo Revengers Saga Demonstrates Higher Stakes and a Ton of Emotions
When his beloved Mio passes away unexpectedly before his eyes once more in a bizarre accident, Tekemichi experiences yet another flashback. Or did it? In order to save her, Tekemichi must travel back in time to discover how his continued association with the Tokyo Maji Gang has damaged his real life. There is so much action, suspense, and emotion that nothing can prepare you for it. Brings to the big screen TOKYO REVENGERS 2 – PART 1 and TOKYO REVENGERS 2 – PART 2! With two captivating new installments in this cherished tale, director Tsutomu Hanabusa outperforms himself. The saga's legions of followers routinely topple Japan's box office.
Aporia Is a Masterpiece of Speculative Science-Fiction That Travels Through Time
Sophie (Judy Greer, HALLOWEEN) has battled to balance crushing grief, a full-time career, and the obligations of parenting her distraught teenage daughter (Faithe Herman, THIS IS US) since losing her husband Mal (Edi Gathegi, FOR ALL MANKIND) in a drunk driving incident. Sophie will be forced to make an impossible decision when Sophie's husband's best friend (Payman Maadi, A SEPARATION), a former physicist, reveals he and Mal had been developing a time-bending gadget that could restore her former existence. Award-winning writer/director Jared Moshe (THE BALLAD OF LEFTY BROWN), in this sci-fi thriller with a strong focus on the characters, creatively explores the repercussions of morally dubious decisions done in the name of love and poses pertinent concerns about the ethics of technological advancement.
The Adams Family Will Take You to Where the Dark Lord Runs
When Fantasia travels to WHERE THE DEVIL ROAMS, the darkest prayers will be granted, in sawdust and blasphemy. This astounding new film from The Adams Family (Toby Poster, John Adams, and Zelda Adams), cult favorites, follows a family of traveling circus performers as they travel across Depression-era America in search of eternal life. The talented filmmaking family's most recent work continues their innovative investigations of familial power relations via the lens of horror, much like in THE DEEPER YOU DIG and HELLBENDER, both Fantasia World Premieres. eerie, poetic, occasionally humorous, frequently bizarre, and delivered with conviction through a very personal perspective. First time ever.
Shattering Fistfuls of Mayhem From Xavier Gens!
Xavier Gens (GANGS OF LONDON, FRONTIER(S)) is back! Professional boxer Sam (Nassim Lyes), who was just freed from prison, violates his probation, escapes to a remote island in Thailand, and establishes a family there. However, things quickly spiral out of control when he is forced to become a drug smuggler by a ruthless local Godfather (Olivier Gourmet)! MAYHEM!, a blood-soaked retribution roller coaster, begins slowly before exploding onto the screen with tendon-snapping tension and rarely seen in contemporary cinema combat choreography. Along with Kenneth Won, Vithaya Pansringarm, Mehdi Hadim, and Loryn Nounay. First time ever.
People Who Talk to Plushies Are Kind, so Let It All Out
Nanamori, a sophomore student, is encouraged to express his emotions through stuffed animals when he joins the Plushies Club. You can refer to it as a safe environment or the nirvana of introverts. And while it may come naturally to some, it may serve as an isolating distraction for others. People Who Talk to Plushies Are Kind charms with a subtly provocative examination of sexuality, gender, kindness, and tolerance in Japanese society. It is adapted from a novella by emerging literary talent Ao Omae and directed by up-and-comer Yurina Kaneko (Fantasia 2019 pick 21ST CENTURY GIRL). For those times when the world seems like it is entirely too much, a thought-provoking update on the youth film. Premiere in North America. Lucida camera section.
Blackout From Lycanthropian Chills by Larry Fessenden
With the release of his werewolf movie WEREWOLF, legendary horror director Larry Fessenden completes the trilogy he started with his vampire drama HABIT (1997) and FRANKENSTEIN adaptation DEPRAVED (2019). Fessenden, as usual, weaves in his traditional concentration on socio-political themes, from his long-held ecological worries to very contemporary issues of suspicion and paranoia, to make BLACKOUT a very human story as well as a compelling horror show. starring Joe Swanberg, Barbara Crampton, Marshall Bell, Addison Timlin, James LeGros, and Alex Hurt. First time ever.
Mother Land, an Arctic Stop-Motion Adventure, Travels From South Korea
When Krisha's mother's condition deteriorates, the local shaman advises her to follow the North Star to the Ancient Forest in search of its legendary master and guardian, the huge red bear. The animated adventure film from South Korean director Park Jae-beom is the country's first stop-motion movie in nearly 50 years. A masterfully created snowbound fantasy with a strong emotional warmth at its center is MOTHER LAND. It investigates the customs and way of life of the native, nomadic reindeer herders in the harsh, barren Siberian Arctic. Premiere in North America. Section Axis
Tighten Your Seat Belts and Use Caution When Making Wishes
Nick Stahl plays a chef with gambling issues who flees to an old friend's villa in Latin America where they look to be leading extraordinary lives. Soon, the chef's envy transforms into greed, which leads to something much more frightening when he takes the chef's friend's life. WHAT YOU WISH FOR is writer/director Nicholas Tomnay's riveting second film and is an edge-of-your-seat journey into moral compromise with copious amounts of dark humor, horror, and surprise. Tamsin Topolski, Randy Vasquez, and Penelope Mitchell all appear in the picture, which is supported by Stahl's strongest performance in a leading role. from THE FLORIDA PROJECT's creators. First time ever.
Richelieu Hosts a Heart-Wrenching Reflection on Modern Slavery
Stéphane (Marc-André Grondin, RAVENOUS, C.R.A.Z.Y.) only intends for Ariane (Ariane Castellanos) to serve as a messenger for his Guatemalan employees. Ariane will be forced to choose between her life and the lives of the men after witnessing the horrible brutality they endure. RICHELIEU, the beautiful first film by Québécois filmmaker Pier-Philippe Chevigny, paints a candid and heartbreaking image of a system in which we are all involved unless we are prepared to pay the price of speaking up for justice. Canadian debut.
You Are Challenged by Jenn Wexler to Suffer for the Sacrifice Game!
Jenn Wexler returned with her sophomore movie THE SACRIFICE GAME after her high-octane punk rock hit THE RANGER blasted onto the genre landscape in 2018. With co-writer, Sean Redlitz, independent filmmaker Wexler created this suspenseful and fashionable chiller with the '70s setting that features schoolgirls, power-crazed killers, and occult prophecy. Mena Massoud (EVOLVING VEGAN and ALADDIN), Olivia Scott Welch (LUCKY HANK, FEAR STREET Trilogy), Gus Kenworthy (AMERICAN HORROR STORY), Georgia Acken, Madison Baines, and Chlo Levine (THE RANGERS) star in this fast-paced horror movie, which was shot in Quebec. THE SACRIFICE GAME is something you won't want to miss! Co-presented world premiere with Les Fantastiques Weekends.
Larry Kent Receives a Canadian Trailblazer Award
The renowned first underground filmmaker of our nation, Larry Kent, will receive the 2023 Canadian Trailblazer Award from Fantasia along with the world premieres of the brand-new 4K restorations of his seminal Vancouver Trilogy from Canadian International Pictures, as well as other screenings and events.
Larry Kent, who David Cronenberg referred to as "a heroic figure," produced movies that were, in the words of Atom Egoyan, "so ahead of their time" that they finally were taken out of the official canon.
Between the colorful independent dramas of John Cassavetes and the gory melodramas of Doris Wishman, Kent's works gave Canadian cinema fresh life, and time has only increased their impact.
His most recent films, EXLEY (2011) and SHE WHO MUST BURN (2015), both received their world premieres at Fantasia, with the latter winning the festival's 2015 Barry Convex Award for Best Canadian Feature from Spectacular Optical. He is currently approaching the age of 90.
Whether or not viewers have caught on to Kent's audacious, uncompromising vision, CIP is hard at work on a massive restoration project that aims to revive some of his most important works, beginning with The Vancouver Trilogy: THE BITTER ASH (1963), SWEET SUBSTITUTE (1964), and WHEN TOMORROW DIES (1965), each of which will be unveiled at Fantasia this summer.
Adventuresome cinephiles now have the chance to discover (and re-discover) these enduring classics of Canadian underground cinema thanks to CIP's recent 4K scanning and restoration of the original camera negatives for all three movies.
Fantasia will also be showing a special screening of SHE WHO MUST BURN (2015) as well as a rare 35mm print of YESTERDAY (1981).
Join us as we honor one of the most daring originals in Canadian film!