Everything, Everywhere, All At Once – Is The Hype Real? You Bet.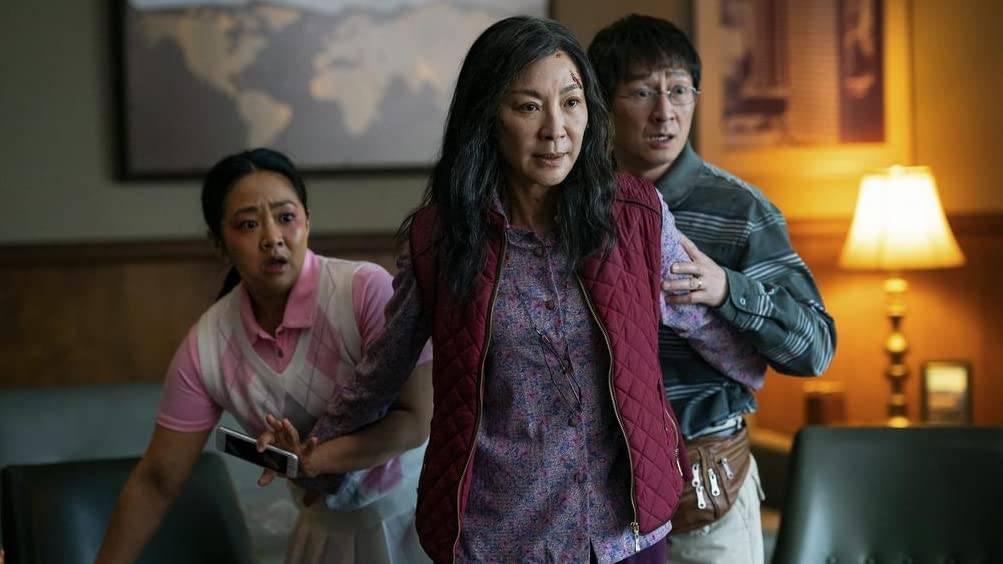 The Letterboxd's Top 250 List is based on the average weighted rating of all Letterboxd users. Films need to have a minimum of 5,000 ratings to be eligible to enter the list. The list definitely fluctuates from week to week but most of the top films remain in their spots. While scrolling through Letterboxd, I noticed something interesting about the list. Something that I didn't think would be possible. Both of The Godfathers have been dethroned. Could this newer film be so good that it beats those movies critically? Part of it may be the hype, but it has been a long time since viewers have seen a completely original film. "Everything, Everywhere, All At Once" blends so many genres from Comedy to Horror to Action and back to Comedy.
When an interdimensional rupture unravels reality, an unlikely hero must channel her newfound powers to fight bizarre and bewildering dangers from the multiverse as the fate of the world hangs in the balance. Directed by the film making duo "Daniels", the film stars Michelle Yeoh, Jamie Lee Curtis, Stephanie Hsu, and Ke Huy Quan.
You know those feelings you might have had when you first saw The Matrix or Jurassic Park in theaters for the first time? The feeling you get when you're completely entranced by a movie and think about how films will be going forward? I did get this feeling again after the first half hour. It's a tremendous achievement in film making. Michelle Yeoh not only gives the performance of her career, but she also leaves enough room to breathe to let the rest of the cast shine. Ke Huy Quan just might be the Oscar front runner for Best Supporting Actor. It's a bold statement, but it's definitely going to be in the conversation. Ke famously had co-starred in both Indiana Jones and the Temple of Doom and The Goonies. He portrayed Short Round & Data. Ke has been extremely busy working behind the scenes since The Goonies as a stunt coordinator. Within this movie, it's clear he was dedicated to make this the comeback story of comeback stories. His action scenes are inspired, while his role as Michelle Yeoh's husband is played very sincerely. Stephanie Hsu & Jamie Lee Curtis have plenty to do as well. Each of them has different enough action set pieces and beats that will make re-watches a must for this kind of movie.
I left the film speechless. I didn't really understand what I have just seen, and it was kind of fun to get my gears turning to figure out what the entire film was even about.  I think this is the movie where every viewer will feel or view the film differently from someone else. Once every few years, a film will come along that is really audacious, funny, and introspective. I'm really lucky to have seen this in a theater, and I think with some word of mouth it will go for a while at the box office in the next month. This could be your new favorite movie of all time and I believe the hype is very real with this one. And if not, that's fine. It isn't perfect, but it's pretty damn close. "Everything, Everywhere, All At Once" is playing in theaters now.