"War Pony," Starring Riley Keough & Gina Gammell, Was Picked up by Momentum Pictures at SXSW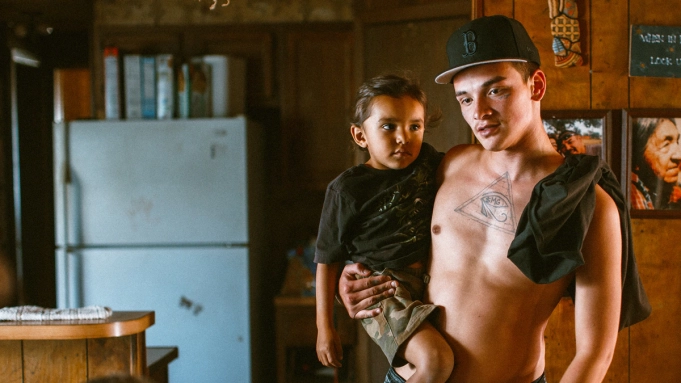 Deadline reports that Momentum Films has purchased the US and Canadian rights to War Pony, Riley Keough, and Gina Gammell's first-ever feature-length directing effort.
Tomorrow, March 16, the film will screen at SXSW. It had its global premiere at the Cannes Film Festival under Un Certain Regard and won the Camera d'Or (given for Best First Feature Film).
War Pony follows the interlocking stories of two young Oglala Lakota men growing up on the Pine Ridge Reservation. Each of the young men struggles with a world that is set up against them as they traverse their individual journeys to manhood, bound by their mutual yearning for belonging.
Franklin Sioux Bob and Bill Reddy, two extras who worked on the filming of American Honey in 2015, were friends Keough made. As a result of her introduction of them to Gina Gammell, her closest friend, a dynamic quartet was formed. Sioux Bob and Reddy, as well as those of their friends and family, served as the inspiration for the stories in War Pony. Sioux Bob approached the project with the goal of portraying Native American culture accurately on TV. Prior to filming, Keough and Gammell spent a lot of time on the reservation.
Ladainian Wild Thunder and Justin Bapteise Whiting star in the film, which has a screenplay by Keough, Gammell, Franklin Sioux Bob, and Bill Reddy.
In a way that is both beautiful and devastating, this novel strikes a balance between the particular circumstances and culture of the two young guys as they struggle to find their place in a world that has been turned upside down. In order to ensure that this movie reaches audiences in the US and Canada, Momentum joined, according to Ian Goggins, Momentum Films' EVP, Global Home Entertainment.
Keough co-founded the production business Felix Culpa with director Gammell in addition to her acting career. Felix Culpa is committed to bridging the development gap in the current cinema business and giving a voice to talent and stories that need to be heard.
Felix Culpa, Caviar (Sound of Metal, The Rider), Ward Four, Couscous Films, and Kaleidoscope Entertainment collaborated to develop War Pony. Together with Willi White, Bert Hamelinck, Ryan Zacarias, Sacha Ben Harroche, and executive producer Pte Cante Win Poor Bear, Keough, and Gammell produced the film.
War Pony's domestic deal was arranged by CAA, and Protagonist Pictures is in charge of the film's foreign sales.
Keough, an actor, director, and producer, now plays the title role in Taylor Jenkins Reid's best-selling novel Daisy Jones & The Six on Amazon. The series and its accompanying first album, Aurora, both peaked at No. 1 on the U.S. list of Amazon Prime Video's Top 10 charts within hours of their separate launches.
Beneath the Bridge, a limited series for Hulu based on Rebecca Godfrey's book is now in development under the Felix Culpa brand of Keough and Gammell. It recounts the true account of Reena Virk, a 14-year-old who left home to go to a party with friends but never came home in 1997. Startling realities about the improbable murderer are revealed as the novel immerses readers in the private lives of the seven teenage girls and the boy who are suspected of the brutal killing. Keough will portray Godfrey as well.
For her breakthrough performance in Steven Soderbergh's original 13-part television series The Girlfriend Experience, which was based on the 2009 movie of the same name, Keough received a Golden Globe nomination. The actress received a 2017 Film Independent Spirit Award nomination for her performance in American Honey, which had its global premiere at Cannes in 2016. Zola, Mad Max: Fury Road, Magic Mike, The Runaways, The Good Doctor, and The Lodge are just some extra credits. Hansen, Jacobson, Teller, and CAA each represent Keough.
Momentum picked up the domestic release of To Leslie, which had its international premiere at SXSW the previous year and earned Andrea Riseborough an Oscar nomination for Best Actress.