The Monkey by Stephen King Will Be Released in Theaters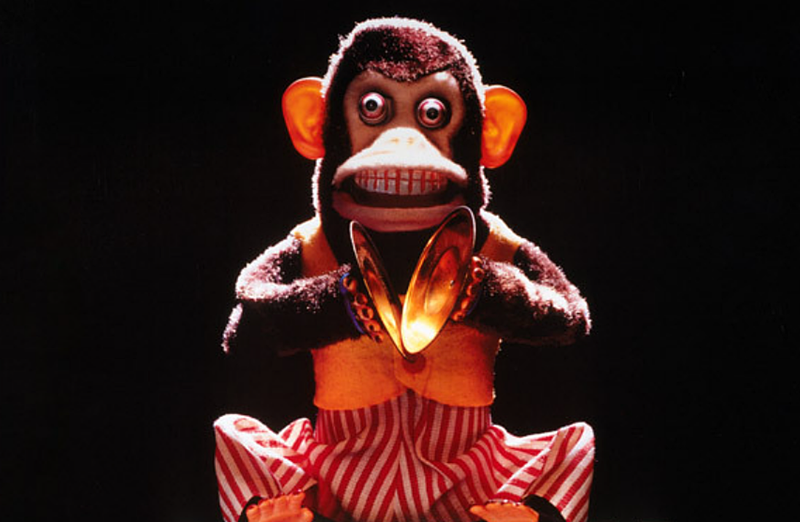 Folks, Deadline has just received some incredible news: Osgood Perkins, writer and director of The Blackcoat's Daughter and the upcoming Longlegs, is adapting Stephen King's iconic short tale "The Monkey" for the big screen. The project is for James Wan's Atomic Monster. Theo James, last seen on HBO's The White Lotus, will play the lead role.
There is a lot to get excited about here. Perkins has become known as one of the most intriguing voices in the horror genre over the past ten or so years, offering slow-burn shocks with just a hint of surrealistic nightmares. Any new Perkins movie is something to look forward to, but King directed by Perkins? Wow, that's going to be great, friend.
What a King tale that is, too! The opening scene of "The Monkey," a 1980 novel by Stephen King that is a part of his Skeleton Crew collection, features two young boys and their father cleaning out an attic. Soon after, one of the lads finds an old wind-up monkey toy (you know, the one that nods maniacally while smashing two little cymbals together? Let's just say this monkey has been around for a while, that it has a really terrible attitude, and that things are going to get worse before they get better for this family. You can see one at the top of this page, from the Monkey Shines poster.
James Wan declares
The horror genre's "godfather" is Stephen King. It has always been a dream of mine to assist in bringing one of his stories to life because he had such a significant impact on me as a child and throughout my career. With its straightforward, recognizable, and very marketable idea, The Monkey is a personal favorite. And for someone to bring this to life, I can think of no one better than Osgood, a visionary and devoted fan of the genre.
If you're keeping track at home, this is the second King adaptation we've learned about in the last 24 hours (in case you missed it, Mike Flanagan is transforming King's "The Life of Chuck" into a motion picture; you can read more about that adaptation here). In the King-to-screen pipeline, these projects join HBO's ongoing IT prequel, Welcome to Derry, the upcoming horror feature The Boogeyman, and the as-yet-undated 'Salem's Lot adaptation. In the months to come, other projects will undoubtedly join them.
There is currently nothing new to say regarding The Monkey, but we are eagerly awaiting any new information, which we will present to you as soon as it becomes available. Keep checking back, my fellow King nerds!