Thailand's censors crack down hard on the horror movie "Hoon Payon"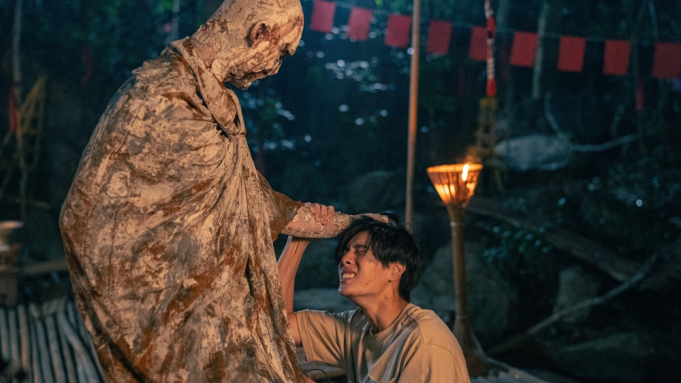 The release of the local horror film "Hoon Payon," which was scheduled to hit theaters on Thursday, has been delayed by Thailand's film censors.
The movie's world premiere screening took place on Tuesday at a gala in Bangkok, and everything went well. But, censors have since stepped in to demand the removal of five scenes and to assign the Five Star Production movie a 20+ rating.
The rating requires viewers to be at least 20 years old, omitting the film's primary teenage audience and also requires theater staff to check each customer's identification.
A guy visits a community in a border area where his brother, a novice Buddhist monk, has been charged with murder as part of the movie's plot. The man wonders why the locals have such unquestioning faith in a supposedly protecting doll or mannequin as more bodies are discovered.
Scenes of the imaginary monk fighting and being hugged by an elderly woman, who may or may not be his mother, are what has offended some.
"Cinema owners have requested that we file an appeal against this '20+' rating since they claim to not understand it. One of Thailand's oldest film studios, Five Star, informed Variety that they had already made the adjustments and had submitted their appeal.
"Distributors in 13 regions had planned simultaneous releases because this movie had received a lot of licensing. Until we have a fresh release date, they have postponed their release. Hopefully very soon," the spokesman stated.
The de facto prohibition was also opposed by the Thai Film Directors Association, which said that such actions violated peoples' rights and were detrimental to the film industry. The group urged for change of the Cinema Law, which gives bureaucrats such extensive control over what individuals watch, in a Facebook post.
Thai authorities have regularly targeted movies and TV shows that show monks as anything but holy, despite the fact that Buddhism is not recognized as the official religion of the nation by law. The 2006 movie "Syndromes and a Century," directed by Thai Oscar-winning Apichatpong Weerasethakul, was previously outlawed for including a scene in which two doctors kissed and a fictitious monk playing the guitar. Due to a scene in which a Buddhist monk sobs over the loss of a previous partner, the TV drama "Thi Baan" was censored in 2018.
The nation's conservative political foundation is centered on the axis between authority, Buddhism, and the monarchy. and appears to be impenetrable.
Thai censorship is inconsistent and selective; some real-life Thai monks have TikTok accounts, while others rule opulently affluent temples without drawing attention to themselves.
Adirek Phothong, who wrote the screenplay for "Hoon Payon," Phontharis Chotkijsadarsopon, and Five Star have all previously produced a number of similar movies, including "Pee Nak," "Pee Nak 2," "Pee Nak 3," "Still," and "Ghost Ship."
Five Star stated that they did not comprehend the 20+ rating or why this specific movie was singled out.
Phuwin Tangsakyuen, Kunatip Pinpradab, Poompat Iam-samang, Bhuripat Vejvongsatechavat, Thasorn Klinnium, Pannawit Pattanasiri, Waratthip Kittisiripaisan, and Phongsakon Michai are among the actors who appear in the movie.