'Hidden In The Woods Part 2', First Look At The Chilean Survival Thriller As It Wraps Filming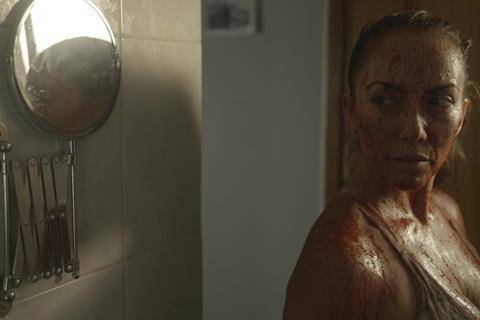 Screen Daily let us know that principal photography on Patricio Valladares's low-budget survival thriller film Hidden In The Woods Part 2 has wrapped in southern Chile.
The sequel takes place 10 years after events in the 2012 original and sees Anny trying to lead a new life in a new town as a cleaner after she and her sister were terrorized by their abusive father and crime boss uncle. Anny's peaceful existence is shattered when gangsters turn up at her employer's lake house to collect a debt.
Production took place in Las Aguadas, Yumbel. Priscilla Olguín, Giordano Rossi, Christian Cuentrejo, Manuel Navarrete, George Belmar and Luis Vitalino star in Hidden In The Woods Part 2. Valladares, whose credits include Downhill, wrote the screenplay in 2020.
The film is co-produced by 8-Films (Germany), Reel Gore Releasing (US) and Vallastudio Films (Chile). Steve Aquilina, George Von Knorring, Vittorio Farfan and Valladares serve as producers. 8-Films will distribute the film in the US and Germany.
The producers are in talks for Chilean and Latin American distirbution and have not yet appointed a sales agent. "I'm so thrilled to partner with 8-Films, because I have known Steve [Aquilina, CEO] since we first met at Frightfest back in 2012," said Vallardes. "He and his team are true horror fans, and I've been a fan of his work since my teenage years." The producers are targeting a release in the second half of 2022. Valladares is represented by Tammy Hunt and CSP Management in Los Angeles.