First Look at 'Blue Light' a New Horror Franchise by Andy Fickman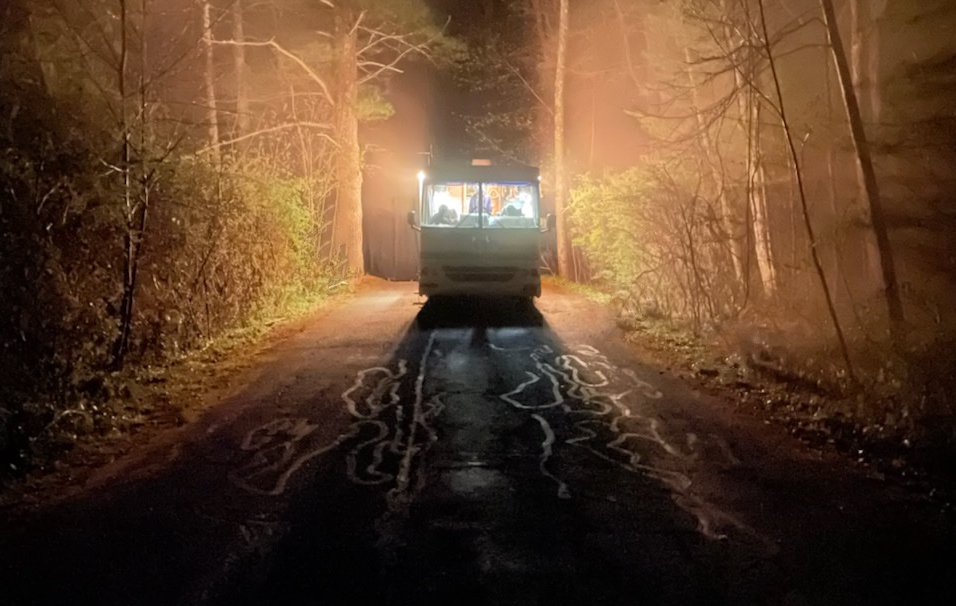 Bloody Disgusting just shared today that director Andy Fickman, and Todd Slater of Convoke Media (Sacrifice Game and Deep Web: Murdershow) have shared the exclusive first look at Fickman's new horror franchise, Blue Light.
In Blue Light
"Seven childhood friends leave for an exciting road trip in an old RV to the coolest underground music festival out there – BLUE LIGHT. It will turn into a nightmare journey for which there is no U-turn for survival. If they survive, they will carry the scars of the experience…for the rest of their lives."
Blue Light was inspired by films including Picnic at Hanging Rock, Rosemary's Baby, The Thing, Duel, Race With the Devil, Alien, and Deliverance. Blue Light will have a sequel and a prequel which are already in the works.
In an exclusive statement provided to BD, Andy Fickman touches on why this ambitious new project is so important to him, and the inspiration behind the film.
"My whole life I have been fascinated by horror and sci-fi films," Fickman tells us. "When I was growing up in Texas, my buddies and I went opening night for every horror film and would return multiple times over the weekend. During my senior year in high school, I went with some friends to a reportedly haunted cemetery. We snuck in – late at night – to tell ghost stories and drink cheap champagne. The place was pitch black and fenced in. We had to throw jackets over the old barbed wire to safely crawl over. At one point, we heard a noise…and that noise quickly grew. It became threatening as it was racing towards us. It sounded way too heavy to be a small critter, but with no light source and a minefield of ancient tombstones, it was hard to imagine people trying to scare us by running through the dark without tripping over the endless tombstones."
"Terrified, we freaked out and ran for the barbed wire fence, which we had to crawl back over. Everyone else got over; I was the last one, but the jacket protecting the barb pulled off onto the other side. I had no choice, as whatever was coming for us was directly behind me. I could sense how close it was to me, and I screamed as I flew over the fence, ripping my hand across the barbed wire. There was blood everywhere as we threw ourselves into the car. Speeding away, we were unsure of what we had just experienced. We had a thousand different explanations – but no answers. My hand still bleeding, we were too worried about going to a hospital, as we thought we would all get in trouble. But it was a deep rip from a rusty barbed wire, and we had to do something. We drove to the beach in Galveston and there, my friends walked me into the salt water and held my hand in while I screamed and screamed and screamed. Afterward, we all got back in the car and drove silently back to our homes – unsure how to explain what we had just experienced. The scar on my hand remains today – and so does the lack of explanation for the events that occurred that night."
Fickman continues, detailing how this experience inspired the upcoming Blue Light, "My dad was a Paleontologist and Geologist. At an early age, he introduced me to the world of UFOs, Bigfoot, and Ghosts…as a scientist, he taught me that it was impossible to assume we know all the answers to all the mysteries on our planet, much less in the universe. Just a few years ago, the government denied the existence of all UFOs – but then just recently, they have done a complete turnaround and have turned it into a full-time hunt and search for alien life. The news is filled with sayings like "we don't know, but that doesn't mean it's not real." Blue Light was born from this personal experience. I carry a scar, but I can't explain the story surrounding it."
Check out the official poster down below!