Dermot Mulroney and Anne Heche Stumble Upon a Strange Scene in 'You're Killing Me' Clip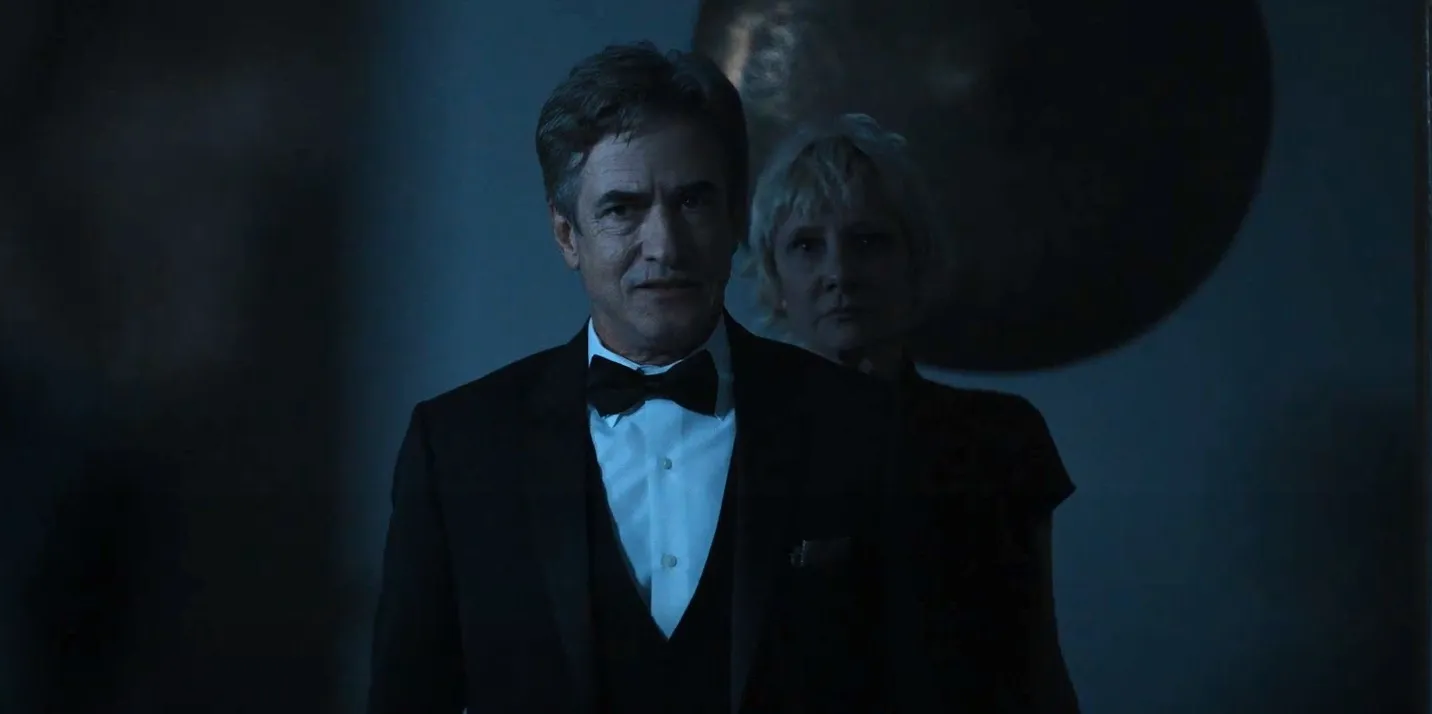 Bloody Disgusting has received an exclusive clip from You're Killing Me, which will be released in select theaters and on digital on April 7 from Quiver Distribution.
Dermot Mulroney (Scream VI), Anne Heche (I Know What You Did Last Summer), McKaley Miller (Ma), Wil Deusner (She-Hulk), Morgana Van Peebles (Power), and Brice Anthony Heller star in You're Killing Me (Samaritan).
Check out the video below to see Mulroney and the late Anne Heche.
Eden Murphy, a prep student, is the protagonist of the film (McKaley Miller).
A week ago, a student at Torrington Prep, Melissa Brown (Kalli Tehranae), went missing. While the police search for her, her classmates are more preoccupied with their futures — none more than Eden Murphy. She may be the poorest student at Torrington Prep, but she's got big ambitions. Ever since she was a kid she has dreamed of attending the elite Pennbrooke College. But after learning she's been waitlisted at the school of her dreams, Eden decides to take drastic action.
With the hope of receiving a letter of recommendation from the wealthy parents of resident alpha bro and valedictorian, Barrett Schroder (Brice Anthony Heller), Eden hatches a plan. She drags her best friend Zara (Keyara Milliner) along with her and sneaks into his annual legendary "Heaven and Hell" party. Betraying their better judgment, Eden and Zara don sexy wings and skirts and head to the notoriously debaucherous party to cozy up to Schroder. Unfortunately, Eden realizes that her friend Zara is sloppy drunk.
When she brings Zara upstairs to sleep it off, Eden stumbles upon evidence on Schroder's friend Gooch's (Brice Anthony Heller) phone that links Schroder to Melissa Brown's disappearance. Troubled by this discovery, Eden locks herself and Zara in the master bedroom with the phone/evidence. Schroder and his friends realize that she has it and come knocking. Eden demands answers while Schroder insists she's being drunk and hysterical. Barricaded in the master bedroom with her unconscious friend, Eden searches for a way out.
The night spirals out of control as Schroder and his friends resort to increasingly desperate measures. Soon the game of cat and mouse turns deadly as the teens do everything in their power to protect their bright futures. As the bodies start to pile up, Eden is still trapped and she realizes it'll take every ounce of courage and wit if she is going to survive this hellish night.
Beth Hanna and Jerren Lauder (The Inhabitant) direct the film, which was written by Walker Hare (Thorp) and Brad Martocello (To Kill A Cat). Jerry Olson (Dumb & Dumber), Larry Greenberg (After Class), Kevin Greene (The Basement), Joshua Russell (OMG), and Seth Ingram produce You're Killing Me (Holy Irresistible).