'The Witches Of The Sands' A New Indie Horror By Tony Mardon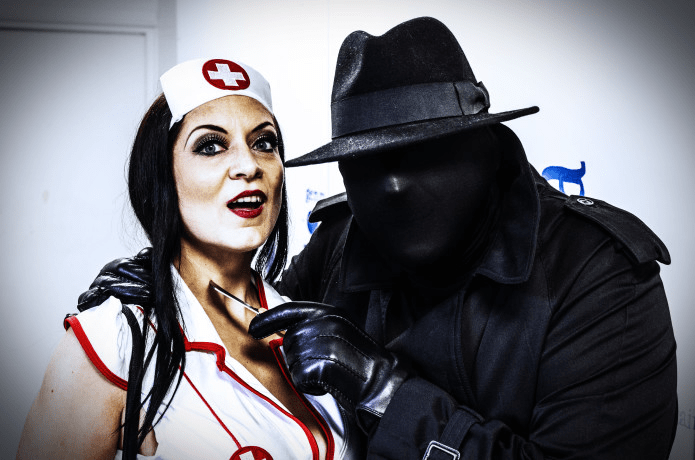 The First 'Post-Modern Meta, South-Eastern Gothic, Folk Horror, Bloody Psychological Slasher B-Movie'… EVER!!!
As a life-long horror fan, I wrote 'The Witches of the Sands' as a love-letter to horror movie lovers everywhere.
One of our many, many baddies…
Head over to their indiegogo campaign if you want to help them reach their goal.
The Witches of the Sands follows two narratives:
That of the director making his B-Movie (and his progressively tentative grip on reality)and the narrative of the B-Movie he is making, featuring inept paranormal investigator and pod-caster, Fischer Markway, and his increasingly bizarre adventures…As well as this, we have many surprises and even some audience participation in the style of the great showman, William Castle.
The Witches of the Sands (or TWOTS as we like to affectionately call it) features many, many well known horror genre greats. However, each actor was chosen specifically with scenes written especially for them and not just in it for name's sake as can sometimes be the case with an ensemble cast. Although the scenes are fresh, the audience will find a great deal of horror movie nostalgia in them too.
Debra Lamb (Teacher Shortage) as the witch Alysandra of Caerwent
Linnea Quigley (Return of the Living Dead, Night of the Demons) , Beverly Randolph (Return of the Living Dead) and Brinke Stevens (Slumber Party Massacre) in a Return of the Living Dead inspired scene.
In the cast we find:
Ian McCulloch (Zombie Flesh Eater) Laurence R Harvey (Human Centipede 2 and 3)
Barbara Magnolfi (Suspiria) playing every bit the Italian diva.
Lynn Lowry (The Crazies, Shivers) getting her revenge in a particularly nasty fashion.
Lloyd Kaufman (Troma) looking for Melvin whilst taking on janitorial responsibilities.
Dawna Lee Heising (Arachnado 2, Robowoman) taking on Shakespeare.
Pauline Peart (The Satanic Rites of Dracula) as the mysterious matriarchal figure
Brandon Crane (IT) and Eileen Dietz (The Exorcist) in two scenes so bizarre you'll want to watch them again and again….
Linzi Drew-Honey (An American Werewolf in London, The Lair of the White Worm) plays the 17th Century Witch, Embeline Proctor
Giovanni Lombardo Radice (Cannibal Ferox, City of the Living Dead) killing his lunch
And many, many more….Including Shawn C Phillips (Ghost Shark, Arachnado), Michael St. Michaels (The Greasy Strangler), Dani Thompson (Pandamonium), Joshua Kennedy (House of the Gorgon), Genoveva Rossi (Shakespeare's Shitstorm), Maria Lee Metheringham (Bite Night) and Martin Payne (Millennial Killer).
We are also privileged to have many other horror movie names involved including Allan (The Darkside) Bryce, Eric (We Belong Dead) McNaughton, Tris (Abertoir festival favourite and author) Thompson, Mark (Theme '70) Banville and the duo behind Misty Moon; Stuart and Jen Morriss… as well as many others….
Head over to their indiegogo campaign if you want to help them reach their goal.