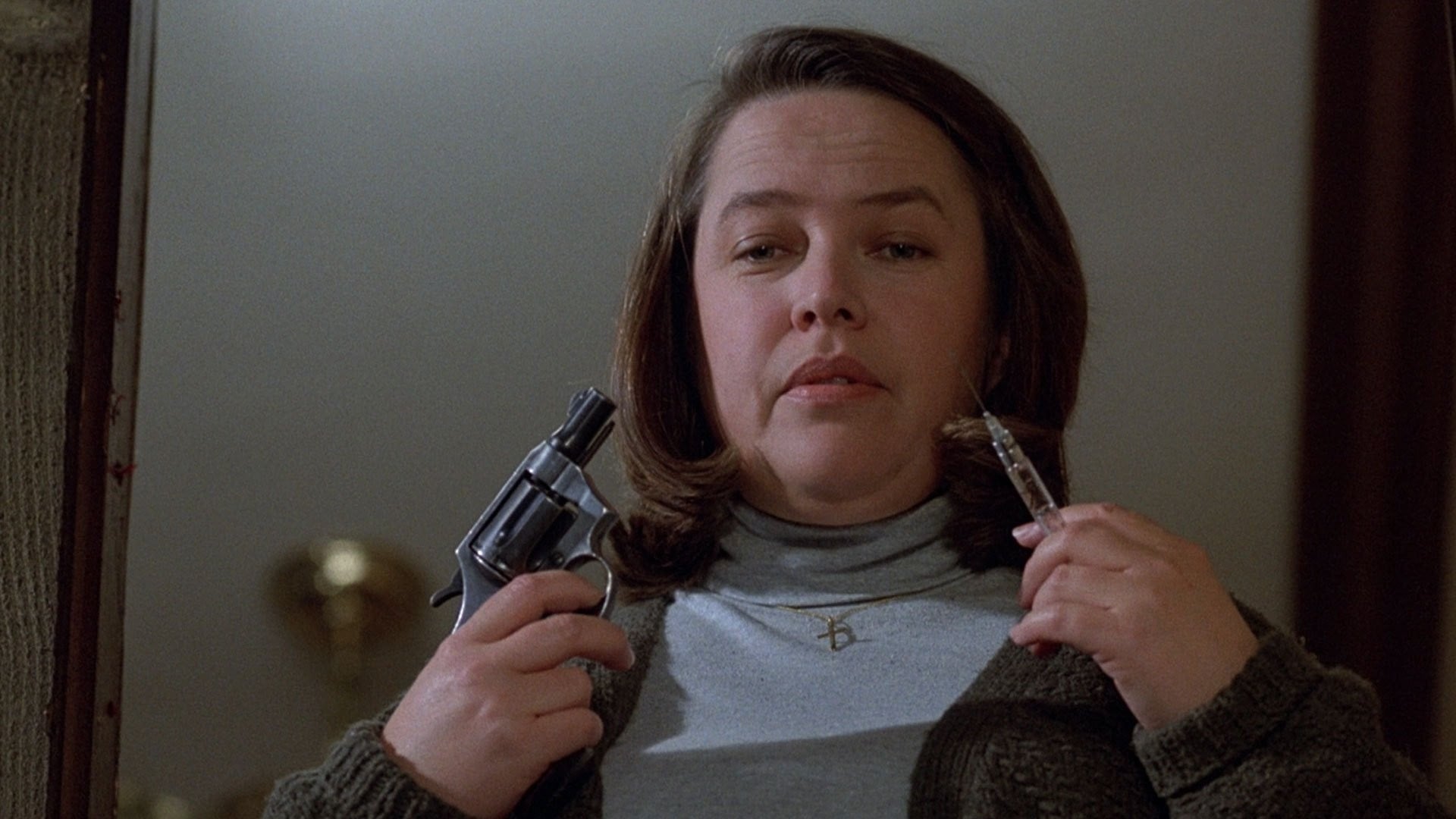 The film "Misery" directed by Rob Reiner is my favorite of the list for a variety of reasons that aren't just limited to its riveting story or the photography of the film. 
Writer Paul Sheldon (James Caan) is left to fate due to a car accident in the snowstorm that riddled him restless. However, Annie (Kathy Bates) discovers him and decides to bring him under her care and just so happens to quite literally be Paul's biggest fan for his hit novels, "Misery". Annie is welcoming, heartwarming and just an absolutely down to Earth woman however, as the movie progresses. Not all is as they seem. 
Annie becomes more irritable and inconsistent with Paul. Quickly becoming bipolar with her moods, her emotions and how she handles the treatment and care of Paul. Between absolutely losing it for the simplest of things, breaking Pauls' ankles to show a form of dominance to him after he's gotten out of his room. Paul is becoming considerably more desperate to Annie's unhinged personality and soon discovers the brutality of her past and quickly begins a plan of attack on not only her, but to escape his imprisonment by her. Subverting her by professing his love and admiration for her and his gratefulness to her, he intends to poison her however that plan fails, and the movie continues the narrative with a series of violence, extremely violent dialogue and eventually closes with Paul's freedom with the death of Annie by bashing her in the face with a small bust thus rendering Paul, free from his shackles. 
The themes of Misery are the most interesting. Exploring the themes obsession, compulsiveness and how someone who is seemingly nice, can be unhinged and do a considerable amount of harm to someone who accidentally became in the situation he was in. The motives of Annie are most interesting due to her obsession with Paul, but it is clear that she had no intentions of seeking out Paul herself, He arrived at her doorstep (literally) and proceeded to do such things to him and for the majority of the film, is actually quite resourceful and helpful to Paul during his recovery. 
Takeaways of the film are similar to others in the genre, it is the tension that is portrayed in the film that remains prevalent after viewing the film. Effectively building the tension with minute details, intricacies that push the narrative forward while exceeding in the development of the characters. It is executed without flaw through its cinematography, writing and its performances by James Caan and Kathy Bates that few films replicate and even more so, fail to do. 
'Misery' is an absolute stellar classic that is well deserved of its praise. Both the film and the book paved the way for intense, nail-biting storytelling that chooses not to take the "in your face" approach like most films of this generation do. 'SAW' comes to mind when writing this. The "in your face" approach has become so common and that most aren't interested in the horror sub-genre of "torture porn" or jump scares that the horror film community has since dubbed. 
It is the tension, anxiety and the stressfulness of each scene that is carefully crafted through cinematography, set design and most importantly, the performances of one's actors/actresses. 
Modern horror could greatly take inspiration from classics such as Stanley Kubrick's' 'The Shining' or 'A Clockwork Orange' and 'Misery'. However, director and writer, Ari Aster's recent work with 'Hereditary' and 'Midsommar' are stellar examples on how to do horror. The long, lingering shots combined with unsettling imagery combined with the performance of the actors creates such an angelic or in this case, demonic experience that Hollywood fails to recreate. Instead, focusing on maximizing box office sales. Of course, film as an art form is subjective to everyone's opinion.